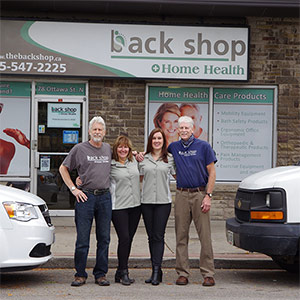 The Back Shop + Home Health was established in 1984 and has proudly serviced the Golden Horseshoe region and South western Ontario for over 30 years. We are proud to continue the tradition of providing superior customer service, combined with a wide range of high quality equipment and product options.
The Back Shop + Home Health is an approved HCAI Facility and is a FSCO Licensed Service Provider, allowing us to bill Auto Insurance Companies directly. We work directly with a variety of healthcare professionals including Occupational Therapists, Physiotherapists, Physicians, WSIB, and Chiropractors in helping their patients after motor vehicle accidents (MVAs) or surgeries, in returning to their daily living.
We are also a preferred provider for Workplace Safety Insurance Board (WSIB) and work closely with their Adjudicators, Nurse Case Consultants, and Back-to-Work Specialists in supplying the necessary equipment to help their employees resume their daily life or workplace functions.
The Back Shop + Home Health is also open to the public and offers a wide range of home health care products and services for the aging, injured and disabled which includes bath and safety devices, mobility equipment, and pain management products, and much more!
We are honoured to be a family owned-and-operated "one-stop shop" for your home health care equipment store needs. Our values are expressed with our dedicated experience and course of action. Making a difference is what we enjoy doing.
Pain Hurting Your Life? The Back Shop + Home Health is here to Lend a Helping Hand!
Showroom hours:
Monday - Friday 8:30 am to 5pm
After hours appointments available.